Investments and Financial Planning
News

Peter Chemidlin, President of Family Investors and Darraugh Valli, Vice President of Family Investors present $1,000 to Father Mike Ward at IHM as a donation for their food pantry. During the check presentation there were many volunteers giving boxes of food to the needy in our community.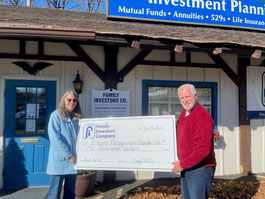 Pictured are Peter Chemidlin of Family Investors Company and Karen Edwards of Fanwood Presbyterian Church Food Pantry.  Family Investors made a much needed donation of $1,000 to the Food Pantry.
Over 60 Years of Personalized Service
Founded in 1960, Family Investors Company enjoys the distinction of being the oldest continually operating brokerage firm in central New Jersey with clients across the country. Our professional representatives are available now to answer questions and offer advice on investments and your financial future.
What is your net worth?
Ready for Retirement?
News You Can Use, All Year 'Round
Already Have An Account With Us?
Have Enough For College Tuition?
Your Family Survey
Member FINRA/SIPC